Mijas Villas & Apartments near the Beach
Want to be close to the beach? All the following properties are within walking distance.
This page contains 2 villas and 1 apartment
Tip: You can change the filter the results on this page using the options above and change the dates using the search box >
Please do not book flights until you have received a confirmation email of your booking.
£2950 - £3950 per week
€3599.00 - €4819.00 per week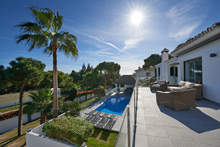 Private pool (heated)
Sleeps 10 in 5 bedrooms
(3 x doubles, 2 x twins)
3 x shower-rooms/ 1 x bathroom
Air Conditioned in all bedrooms
Fabulous pool side Bali House with a BBQ and a dining area
Table Tennis
WiFi ADSL Internet
Lawned areas - ideal for children
Beach - just a 600 metre walk
Casa del Toros is a spacious modern villa situated only a short stroll from the quaint shops, friendly restaurants and tapas bars in La Cala de Mijas.

The beach is also an easy walk at just 600 metres away.
£1000 - £1650 per week
€1220.00 - €2013.00 per week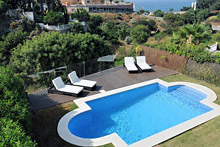 Private pool (heated)
Jacuzzi (heated)
Sleeps 6 in 3 bedrooms
(1 x double, 2 x twins)
1 x bathroom & 1 x shower-room
Fully air-conditioned
WiFi ADSL Internet
Pool table
Beach - just a 4 minute stroll
An ideal family vacation villa with its own private pool which also benifits from a second larger community pool.

Located just 300 metres from the beach at El Faro & 3 minutes by car to the village of La Cala de Mijas.
£600 - £950 per week
€732.00 - €1159.00 per week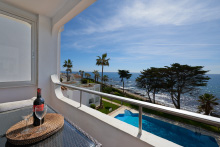 2 x Shared pools
Sleeps 4 in 2 bedrooms
(1 x double, 1 x twin)
1 x bathroom/shower-room
A/C (partial)
WiFi ADSL Internet
Front line sea views
Tennis court (shared)
Beautiful mature gardens with bar & restaurant
Direct access to the beach and the "Coastal Walkway"
Located just 50 metres from the sea and with direct access to the beach makes this Spanish holiday apartment very sought after. Mature gardens, tennis, bar/restaurant.

A great beach front apartment in a lovely location.

The picture on the left is taken from the apartment terrace.