About the Town of Mijas, Spain
What to do, see and experience on your visit. Mijas, like many Spanish towns and villages has a busy events calendar and if you want to see the sights you're better prepared if you follow our guide to Mijas.
Where is Mijas Pueblo?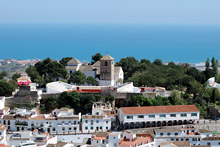 The enchanting village of Mijas is situated in the lowlands of the Sierra de Mijas mountain range and is surrounded by pine forest.

The village nestles in the mountainside at 428 meters above sea level and has a population of 7,500. The nearest main town is the Spanish sea-side resort Fuengirola (8km), Malaga airport is 25 mins by car. Mijas has managed to retain much of its "white village" charm, with cobbled, narrow winding streets, dazzling whitewashed walls and breathtaking views.
A little bit of history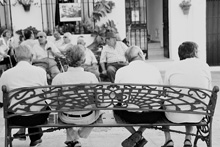 A settlement is known to have existed in Mijas for many centuries. This has been confirmed by archaeological findings near the 'Iglesia de la Inmaculada Concepcion'. This church in the village was completed in the early 18th century and covers the ruins of a Moorish castle that stood from the 8th until the late 15th century. Prior to this the Romans used Mijas, known then as 'Tamisa' or 'Jamisa' as an important commercial and trading centre as it was close to the road linking Malaga and Cadiz.
Every village should have a legend !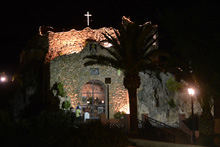 Hidden away in a corner of the village, overlooking the wonderful valley leading to the coast, is the hermitage of the 'Virgen de la Peña'. Built into a rocky outcrop by Mercedarian monks in 1520. Inside is the image of the 'Virgen de la Peña', the patron Saint of the village. According to the legend, she appeared on this spot on the 2nd of June 1586 to two young shepherds that had been led there by a pigeon. Subsequently an image of the Virgin was found concealed in a recess in the tower where it had been hidden for 500 years. In 1656 work started on the sanctuary cave, which is nowadays always decorated with flowers and pictures as offerings.
Mijas calendar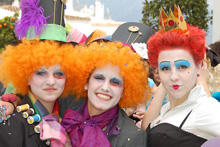 You haven't experienced the real Spain until you enjoy one of Spain's many festivals. The local fiesta is the moment when every town and village strives to put on a splendid show, not only for themselves but also for those who come from afar to admire and enjoy. Over 3,000 fiestas are celebrated every year in Andalucia including fairs, pilgrimages, carnivals, and religious processions.

Here is a guide to some of the major fiestas & events that take place each year in and around Mijas.
Three Kings, "Fiesta de Los Reyes"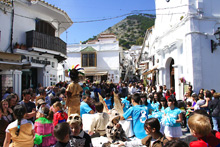 This is the moment when the three kings of Orient bring their Christmas presents to the children, on the evening of the 6th of January. Three men dress up as the kings and ride about the town in a procession, scattering sweets to the crowds of excited children. The 6th of January is a public holiday throughout Spain.

Carnivals - As elsewhere in the Catholic world, carnival is celebrated before the 40 days of Lent. Most Andalucian towns stage some kind of parade, and there is usually a dance, elaborate costumes and a "Carnival Queen" contest.

The Carnival centres around Shrove Tuesday (February 13th 2018, March 5th 2019, February 25th 2020, February 16th 2021, March 1st 2022). Most towns celebrate the carnival with processions either the weekend before or after. Larger towns have festivities lasting all week.
Easter - Semana Santa or "Holy Week"
The Easter week processions in Mijas are very pretty and worth visiting. The parade leaves the village church to wind slowly around the narrow, cobbled streets, with their lifelike statues of Christ on the Cross and his mother the Virgin Mary in mourning. Elaborate costumes are worn and much time is taken on the decorations. This is a serious fiesta and fireworks are not permitted. Please be aware that during these processions drinking and celebrating is still frowned upon by many. The processions take place during the week leading up to Easter Sunday. (April 1st 2018, April 21st 2019, April 12th 2020, April 4th 2021, April 17th 2022). The best days are Maundy Thursday, Good Friday and Saturday. Easter Sunday itself has generally less intensity.
Flamenco in Mijas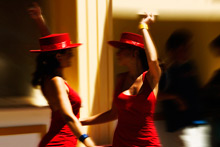 Wednesdays at 12 noon are special in the Plaza Virgen de la Pena in Mijas village. Residents and tourists can enjoy a free flamenco show performed by 'Artes Cordobes'. If you would like a little more information then please follow this link Flamenco Azabache
La Noche de San Juan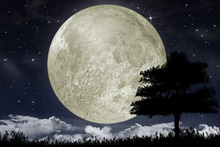 The night of San Juan usually falls on the 23rd or 24th of June, but sometimes the celebrations go on over a few days. This is the celebration of the longest night and the beginning of summer, in San Sebastian Street in the Village at midnight there is a spectacular fireworks display at midnight that you'll be able to see for miles around.

Summer months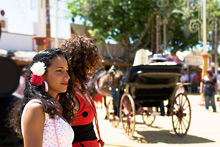 July & August - Due to the higher level of the mountain village than down on the coast, the hot summer months are a wonderful time to enjoy balmy nights at the many festivals and concerts on offer. Amongst the many things to do are:

VIVA MIJAS in Mijas Village can be enjoyed every Tuesday (flamenco) and Thursday (Caribbean music) during July & August in Mijas Village with the "Ruta de Tapa" (1.50 euros for a tapa and a wine, beer or soft drink) ... a craft market in the Plaza Virgen de la Pena and musical performances.

The Flamenco Dance Festival in July, when you can see wonderful traditional dance displays by local and national groups.
A special Latin American Night in August turns the village square into a South American dance festival. You can join in the music and dancing for a hot summer night.

The Spanish Theatre Festival is also held in August in the Mijas Open Air Theatre. There is also a Rock night in the village, with music for the young at heart.
The Annual Mijas Fair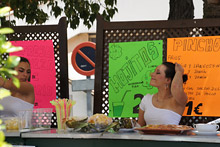 This is held around the 8th of September. Is another week of celebration in honour of the Patron Saint of Mijas, The Virgin of the Rock. Yet again the Spanish concentrate on having fun, the main square is set up with bars and stalls where there is plenty of food and drink for all. Horses are decorated and the locals dress in traditional flamenco dress.
Summer Fairs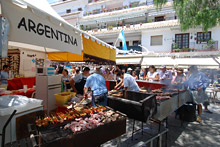 Every town and village in Andalucia has its own feria or fair, each has its own character. But they all seem to have music, food, drink, stalls, rides and your chance to win that pink furry toy by hitting a balloon with a wonky dart. The Spanish love to party and feria week is no exception. During the summer, feria week is different in every town town therefore wherever you are in Spain it seems you can find a feria every week!

The 'day fair' takes place it the streets of the town itself. Streets are closed to traffic, businesses close for the week. Tables and chairs are set up and the bars serve food and drink in the street, and music plays from every corner. People of all ages enjoy, sing and dance. Visitors are always welcome.

At night, the fair shifts to the public fairground or "recinto ferial" on the outskirts of the town. There is a traditional amusement park with lots of rides for the children, and music for all ages to enjoy. There is always the large 'Caseta Municipal' put up by the town council and open to everybody. On some evenings there will be a top-billing singer, for which tickets will be sold on the door at a reasonable price. These are usually very popular and often sell out.

The ferias usually start midweek and finish on Sunday night. In the larger towns they start at midnight on the Sunday night with fireworks. (Monday after the feria is often a local holiday, which is needed for recovering from the festivities).

Here are dates for Ferias in the surrounding areas.

Marbella - 2nd week in June
Estepona - 1st week in July
La Linea - 2nd week in July
Malaga - 3rd week in August
Mijas - 2nd week in September
Torremolinos - Last week in September
Fuengirola - 1st week in October
San Pedro - 3rd week in October

Guided Walks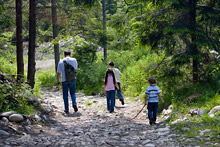 Every Saturday from September to May - Free guided walks in the beautiful rural areas of the municipality organised by the Mijas Foreigner's Department. The walks leave Mijas town hall at 10am and last for between 2 and 4 hours. The rural guides, who speak English, have designed their own routes, which are designed for all the family, including dogs on leads. Just put your name down a few days in advance at the department in Mijas town hall or phone 952 48 59 00 Ext. 244, 242, 220.
Mijas Attractions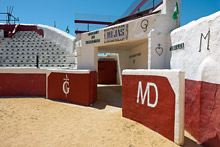 The Bullring - was opened in 1900 and is oval! It is still used for bullfights and horse displays as entertainment today.

Auditorium - Throughout the summer on most Saturday evenings you will find a concert being held here.

Museums - The folk museum shows the history of Mijas and trades of bygone years. There is a unique miniature museum, established in 1972 by a famous hypnotist and located in a caravan. It displays items from 50 countries. The bullfighting museum is located at the bullring and is dedicated to the history of bullfighting.
Tuk Tuk Mijas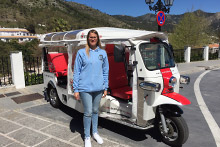 Fancy an Eco Friendly tour in an iconic Tuk Tuk .... Tuk Tuk Spain offers green, clean, silent, eco-friendly tours which take you to the most important sights and attractions in town.

Each 'Limo' Tuk Tuk can take up to 6 passengers + the driver. Prices start at just €7.95 pp (correct 2015) and 3 different tours are offered to places you would never find on foot. The most popular is tour two which takes approx. 35 mins.

Their friendly drivers know all the best kept secrets of Mijas Pueblo & their knowledge will make your visit an unforgettable and unique experience.

Visit Tuk Tuk Mijas web site or call them on +34 626 257 737
Mayan Monkey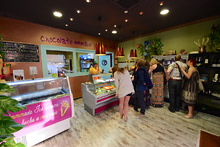 The world's smallest chocolate factory! Learn to make the chocolate bars of your dreams!!!

The chocolate making Experience is a fascinating introduction to the history and origins of chocolate as well as the art of chocolate tempering. The most exciting aspect is hands-on: each participant gets to make 3 of their own chocolate bars, learning to design, paint, mold, vibrate and demould whilst tasting chocolates from around the world. Workshops run daily at Mayan Monkey Mijas, 7 days a week. Spaces are limited, and since classes are as popular with children as with adults, make sure you book in advance to avoid disappointment!

TripAdvisor - No. 1 attraction in Mijas. Tel: 951 052 772 ; Visit: Mayan Monkey

Shopping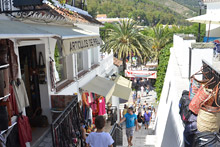 Mijas Pueblo - Hand-made ceramics are as traditional to Spain as Haggis is to Scotland, but for the genuine article you will have to travel to the village of Mijas - and the best place in Mijas for traditional ceramics is Artesania de Espana in Calle Malaga, Mijas Pueblo. The owner Louis Dominguez Calderon invites traditional craftsmen from all over Spain to create what they want with no pressure - each piece is unique & the quality exceptional. Louis also has a fabulous selection of pewter, each piece is individual & again of the highest quality - it seems like every time I go into Loiuis's shop I end up buying another piece of pewter! For those who like to explore the history of the region there is even a small personal museum on the first floor of this Aladdin's cave, displaying items such as old Spanish jewels, swords, guns and even a coat of arms engraved in gold. It is a Spanish heritage kept alive by store owners like Louis who is passionate about Mijas & it's history.

In Mijas there is a thriving arts and crafts movement, particularly in linen and wicker items. Many tiny shops are bursting with the local wares such as ceramics, leatherwork, jewellery and paintings, look for acclaimed local artists, such as Don Clarke and Michele Lehmann.

Fuengirola - has some lovely boutiques selling some fantastic clothes at reasonable prices. Shoes are plentiful and Spanish leather made shoes are good quality and very reasonably priced. In general leather goods are reasonable and in the sales you can pick up some excellent bargains. Find the lovely old Church in the Square most shops are based around here. When you're ready for a break the café bar in the square serves great tapas, but you cannot get the 'Paella' until after 1.30pm!

Fuengirola Miramar Shopping Centre - is off the N340 situated close to the Castle on the west side of town near 'Dunnes' store. Open Monday - Saturday from 10am. The Miramar has many shops including, fashion stores, home and garden, sports, jewellery etc. There is also a large supermarket on the ground floor. The Miramar centre has a food court and a Cinema complex, which shows a film in English everyday.

Fuengirola Tourist Market - every Tuesday morning (10am - 2pm ish), at the Feria ground. You will find most things here including: gifts, leather, sunglasses, clothes, music, jewellery, souvenirs, sweets, arts & crafts etc.

La Cañada Shopping Centre - Marbella La Cañada is probably the most popular Shopping Centre in Marbella, there is also free parking. Shops like Fnac, Salsa, Guess, Guess Kids, Kiko MakeUp, SKINC & Dreisog Surf. There is also the biggest Apple Store in Spain. Alcampo is still by far the best Supermarket which sells everything under one roof and the nearest thing to the Tescos & Sainsburys.

Other Useful Places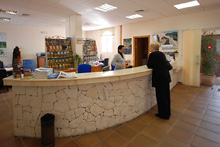 Tourist Information Office - Situated on the lower square (Plaza Virgen de la Pena) next to the town hall.

Opening times: Winter: Weekdays 09:00 to 19:00. Summer: 09:00 to 15:00 and 16:00 to 20:00, Saturdays: 10:00 to 14:00

Supermarket - There is a small supermarket on the way into Mijas Pueblo, on your right in Avenida Mejico. The local market is situated next to the post office in Calle Pilar.

Chemist (Pharmacy) - Drive past the petrol station on the roundabout as you enter Mijas, go past the supermarket on your right, as the road splits take the left fork - the Farmacia is 50 metres on your right (Farmacia Don Antonio Nieves Moreno, Avenida Mejico. Tel. 952 48 64 38. There is a 2nd Farmacia in the Plaza de Constitucion, Tel. 952 48 50 42.

Everyone needs to see a chemist at some point during their stay in Spain, even if it is only for minor mosquito bites or a summer cold. Spanish chemists can avoid queuing to see a Doctor and also save money.

Spanish chemists (farmacias) have the same range of products as any other country. They are generally not very strict about selling prescription drugs without a prescription so if you lose or forget your medication you can probably buy some more from the chemist. Most drugs have almost the same name in English as in Spanish, or you will find an equivalent. If the pharmacist does not understand you try writing it down. If you have a slight illness Spanish pharmacies are very good at giving advice and prescribing you something.

Post Office - Oficina Correos, located in the centre of the village in Calle del Pilar No.12.

Multi-Story Car Park - Take the first left after the farmacia in Avenida Mejico.
Where is La Cala de Mijas?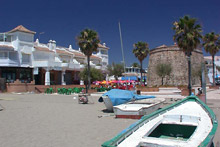 Mijas Costa belongs to the municipality of Mijas & covers a 12 km stretch of coastline ... "La Cala" is approx. 20 minutes by car from Mijas Pueblo & has one of the nicest beaches in the area. This once a small fishing village has grown but it has still managed to retain something of its Andalucian village by the sea atmosphere. La Cala has many restaurants, tapas bars & chiringitos (beach bars) that serve mouth-watering snacks & seafood.

La Cala celebrates its own festivals, such as the annual fair which begins on the 25th July, when the village is all decked out for a week of festivities, when you can sample the traditional sherry, wines and tapas and listen to local music and enjoy the dancing.

Saturday nights in the hot summer months of July and August are magical in La Cala. The promenade becomes a festival of classical music and Flamenco dancing. With the outline of the old 16th Century watchtower of Torre Vieja as a backdrop and moon reflecting down on the expanse of sea, the village celebrates a season of Noches de Luna y Playa (Nights of Moon and Beach).