Restaurant in mijas
Back to list
Restaurante Villalinda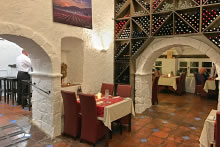 Ctra. Mijas - Fuengirola, No.6
Reviews
These are the views of visitors to this site and are not necessarily the views of Mijas Villas Ltd.
Write a review of Restaurante Villalinda
"Excellent food at Villalinda"
- review by Alan Lintorn, La Fuente
We visited the restaurant on a recommendation and we were not disappointed. The surroundings are inviting and the staff very attentive and knowledgeable about their menu. The salmon starter for two was excellent and could be shared by three at a push. The Venison was very good and the wine reasonably priced. The restaurant had only been open a few months and we hope it is successful as we would certainly visit again.