Restaurant in mijas
Back to list
Restaurante Meson El Olivar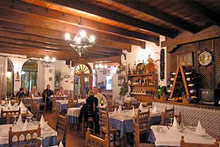 Avda. Virgen de la Pena, 6
Mijas Pueblo
Reviews
These are the views of visitors to this site and are not necessarily the views of Mijas Villas Ltd.
Write a review of Restaurante Meson El Olivar
"Poor hygiene "
- review by Rosanne, Manchester
Menu del dia they offer is far too basic, food is not well-presented and the waiters treat everybody in a very familiar way, which is not always appropriate for all, paricularly to women. both times that I have been there, I have felt unwell, particularly with a stomach bug. I do not think I will ever visit it again, besides there much better small restaurants nearby that offer better food, a cleaner place and a more refined customer service.