Restaurant in mijas
Back to list
La Alcazaba de Mijas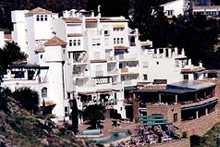 Plaza de la Constitution
Mijas Pueblo
Reviews
These are the views of visitors to this site and are not necessarily the views of Mijas Villas Ltd.
Write a review of La Alcazaba de Mijas
"La Alcazaba"
- review by Cath , Mijas
We had the best steak we have ever had in the al casaba. We were only in Spain for 3 nights but ended up spending two in this restaurant as the food and service was so good. Also fantastic views and not over priced.
"good quality for decent price"
- review by Emiel Hanekamp, Amsterdam
All the dishes (starter, main course and desert) we had were good to very good quality. Service was very polite and helpful. The only not so good point was that the food was too much and so nice we had too much to eat.
"Service"
- review by Bob Mole, Mijas
Fantastic view. Tired menu, steak satisfactory to good, vegetables more like "gloop" waiters rude and abrupt. All in all an over priced outdated venue that I will not be returning to ( a shame as over the past 10 years of visiting Mijas I have made a point of eating at the restraunt)