Restaurant in mijas
Back to list
El Mirlo Blanco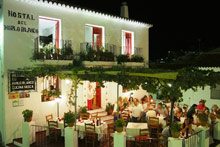 Plaza Contitution
Mijas Pueblo
Reviews
These are the views of visitors to this site and are not necessarily the views of Mijas Villas Ltd.
Write a review of El Mirlo Blanco
"Amazing restaurant"
- review by Matt, Cardiff, UK
Not only is this a really friendly family run, authentic restaurant, the food is amazing. Grilled prawns followed by Steak is the order of the day for me. Reliably among the best steaks I have eaten!!
"Excellent Service"
- review by Marie, UK
Hemos estado varias veces en este restaurante y la comida como la atencion al cliente es muy especial. Este restaurante ofrece platos muy buenos y lo que lo hace muy especial es que es la familia quien lo administra y todos ponen mucho esmero y ofrecer un ambiente muy acogedor, simplemente, me encanta comer alli! Los precios compensa el servicio al cliente que uno recibe.