Restaurant in mijas
Back to list
El Capricho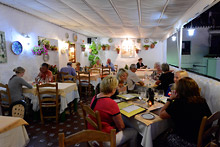 Calle los Canos,
Mijas Pueblo
Reviews
These are the views of visitors to this site and are not necessarily the views of Mijas Villas Ltd.
Write a review of El Capricho
"Understated restaurant"
- review by Matt, Cardiff, UK
This place is fantastic - easy to miss upstairs above the shops on a street where all the restaurants are keen for business, but having tried them all this is a clear winner. The menu does not do it justice and has simple descriptions but order them and you will be pleasantly surprised. Its also very family friendly and has the option of a nice spanishy restaurant or the balcony with nice views of the mountains.
"Incredible El Capricho"
- review by Tony, Sandton, South Africa
El Capricho is one of the best restaurants I have ever visited. The food is superb, the view amazing and the service under patron Enrique first class. A truly great gastronomic experience. If ever you are near the beautiful village of Mijas make sure you don't miss the delights of El Capricho.