Restaurant in mijas
Back to list
Da Bruno Ristorante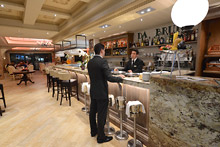 Centro Idea
Carretera de Mijas, Km. 3.6
29651 Mijas
Reviews
These are the views of visitors to this site and are not necessarily the views of Mijas Villas Ltd.
Write a review of Da Bruno Ristorante
"Excellent Service"
- review by Maria, Mijas
They offer excellent food and a refined and very friendly customer service. It is becoming my favourite restaurant in Mijas pueblo. The waiters are very friendly and treat their customers respectfully, making everybody feel very welcome. Every time I have been there, I have left the restaurant feeling highly satisfied. I do think Da Bruno is the restaurant to enjoy a great evening with your partner or friends and relish Italian and Spanish superb dishes! I love it!