Restaurant in mijas
Back to list
Boma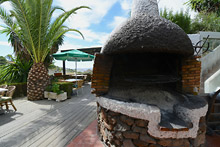 Located at the roundabout
Alhaurin - Coin - Mijas
Reviews
These are the views of visitors to this site and are not necessarily the views of Mijas Villas Ltd.
Write a review of Boma
"Great place"
- review by Jane Dickens, Uk
We have used The Boma bar/ restaurant since before it became the Boma. Always good food, service friendly and good prices. Home made honeycomb icecream is to die for. We go every year. Not to far for a trip up from the coast.