Restaurant in mijas
Back to list
Bar de Marineros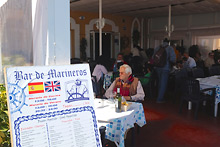 Puerto Deportivo
Fuengirola
Reviews
These are the views of visitors to this site and are not necessarily the views of Mijas Villas Ltd.
Write a review of Bar de Marineros
"Fishy haven will have you hooked."
- review by Tony Adams, Glasgow
My wife and I have been loyal customers here for more than a decade, first being attracted to its early location harbourside because of the all-day sun on the terrace,
Since it moved around the corner, facing south instead of west, it remains a haven for al-fresco dining if you manage to obtain one of the handful of tables outside.
Food is a delight, whether that be a tapas selection (the albondigas and Russian salad are yummy) costing one and a half euros, or the fresh-from-the sea offerings obtained from the local fishing fleet just hours earlier.
The waiting staff, led by Maria, have been there for years and make you feel at home first time of asking. All in all, it is a jewel in Fuengirola's gastronomic crown that continues its sparkle.
Closed on Mondays - no fresh fish that day!