Restaurant in mijas
Back to list
Bar Antonio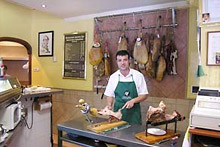 Avenida de Mijas
Fuengirola
Reviews
These are the views of visitors to this site and are not necessarily the views of Mijas Villas Ltd.
Write a review of Bar Antonio
"perfect start to the day"
- review by bob langford, United Kingdom
Bar Antonio is the closest thing to a "caff" ive found so far . great coffee, plus the Spanish take on a cooked breakfast......the proprietor stands behind the counter, carving from whole hams, either the air-cured Iberico, absolutely delicious, or a "jamon York", a more familiar cooked ham. Served with toast with oilive oil and tomato, fried eggs cooked with garlic , or in fresh rolls it is fresh, cheap and very good quality. the bar area is full of working Spaniards, stopping off for breakfast, a TV shows the news or a reel of adverts and you are extremely unlikely to meet any tourists. Breakfast, coffee and a brandy is a great way to set up the day
enjoy.