Restaurant in mijas
Back to list
Asador de Pollos - (The Chicken Shop!)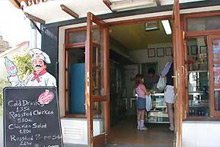 Location of Asador de Pollos - (The Chicken Shop!) , Mijas Pueblo
View Larger Map
Reviews
These are the views of visitors to this site and are not necessarily the views of Mijas Villas Ltd.
Write a review of Asador de Pollos - (The Chicken Shop!)
"Unbeatable"
- review by Frank Kennedy, ireland
In all our European travels over many years, there is nothing anywhere to compare with the roast chicken and chips produced by Angel and Sandra. The quality and flavor is consistent, every single time we have purchased over the years. It brings us back to Mijas every year, and long may they succeed in business.
"Best roast chicken ever!"
- review by Linda1971, Scotland
We made a special trip to Mijas today to try out the famous chicken and we were not disappointed. Absolutely the most delicious meal I've had in last 7 days and the best chicken I've ever eaten. Kids loved it. Empty plates all round.