Restaurant in mijas
Back to list
Aroma Cafe & Secret Garden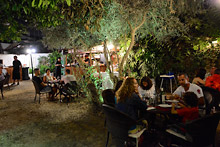 Calle San Sebastian 8
Mijas Pueblo

Reviews
These are the views of visitors to this site and are not necessarily the views of Mijas Villas Ltd.
Write a review of Aroma Cafe & Secret Garden
"Perfect"
- review by Jill Pagden, Sussex
My husband and I visited the restaurant twice on our week holiday last week. It's the most perfect setting and great food. The staff are very welcoming and friendly. I would recommend everyone to go there if you visit mijas. I'll be back next year.
"Aroma Café & Secret Garden"
- review by Alan, Sandhurst
We ate there twice, once at lunchtime when we took shelter from a spell of rain, and agin a few nights later in the evening. The Argentinian BBQ is only open in the evening, but it does offer something uniquely different. Staff here couldn't have been more accommodating, which is one of the reasons we gave it a repeat visit.
"a lovely lunchtime "
- review by ian reedman, England
this is the perfect location for a relaxed lunch in the shade with romantic atmosphere first class service and freshly prepared local dishes