Restaurant in mijas
Back to list
Alarcon Restaurante Bar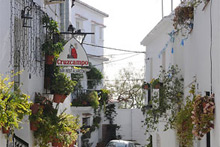 Calle de Lasta
Mijas Pueblo
Reviews
These are the views of visitors to this site and are not necessarily the views of Mijas Villas Ltd.
Write a review of Alarcon Restaurante Bar
"Excelente"
- review by Barry and Nancy Thomas, Canada
We visited Bar Alarcon in 1979 and returned there in 2012. A wonderful experience. Paco, who was a young server in the 70's at his parents restaurant, was now the owner. What a warm and friendly reception we got and were treated to delicious, authentic Spanish cuisine. We are very excited to be returning in one month, June, 2015, to enjoy this wonderful atmosphere again.