a chef in your home
Can't cook or won't cook ... your on holiday, so indulge yourself and hire a chef to prepare & cook that special meal for you ... be it a BBQ, a light lunch or a gourmet dinner.

So sit back & relax whilst someone else does all the hard work ... it's not as expensive as you might think!
Taylor Made Catering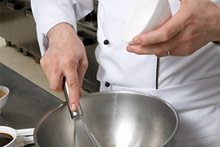 Dine at home without any hassle, from start to finish. Our team will take care of everything including purchasing, cooking, serving and clearing up.

Be it a cocktail party, light lunch, gourmet dinner or an extravagant wedding, we aim to provide the most professional service and to help make your event a most memorable one.

With over 20 years of professional experience from around the world, Michael will be happy to discuss any cuisine requirements you may desire.